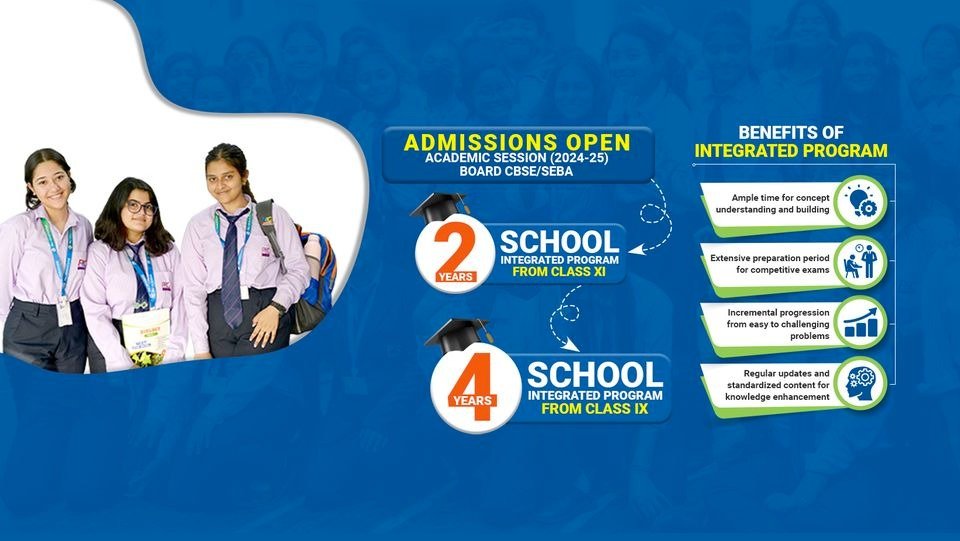 Your Path to Success: The 4-Year School Integrated Program at P&C Academy
Are you a high school student with dreams of becoming a doctor or engineer? Are you ready to embark on a journey that leads to success in the NEET and JEE examinations while maintaining a strong foundation in CBSE or AHSEC boards? Look no further! P&C Academy's 4-Year School Integrated Program is designed just for you.
The Power of Integration
P&C Academy recognizes that success in competitive exams like NEET (National Eligibility cum Entrance Test) and JEE (Joint Entrance Examination) requires more than just cramming facts and formulas. It demands a well-rounded approach that nurtures your academic growth while preparing you for these challenging exams. The 4-Year School Integrated Program integrates the best of both worlds, offering a holistic education that balances your board exams and your aspirations for medical or engineering careers.
The Cornerstones of Success
1:1 Mentorship: One of the key features of P&C Academy's program is personalized mentorship. Each student is assigned a dedicated mentor who guides and supports them throughout the journey. Your mentor becomes your confidant, helping you set goals, create study plans, and navigate the ups and downs of the competitive exam preparation.
Quality Study Materials: Success in NEET and JEE exams hinges on the quality of study materials. P&C Academy provides you with meticulously crafted study materials that cover the syllabus comprehensively and make complex concepts easy to understand. These materials are designed to help you build a strong foundation.
Experienced Teachers: The backbone of any educational program is its faculty. P&C Academy takes pride in its team of experienced and dedicated teachers who are experts in their fields. They not only teach you the subject matter but also inspire and motivate you to excel.
Top-Notch Infrastructure: A conducive learning environment is essential for effective preparation. P&C Academy offers top-notch infrastructure, including modern classrooms, well-equipped laboratories, and a library stocked with the latest reference materials. Our facilities are designed to foster an environment where learning is a pleasure.
CBSE/AHSEC Board: The program ensures that you don't neglect your board exams. We understand the importance of a strong academic foundation. The program is tailored to align with the CBSE (Central Board of Secondary Education) or AHSEC (Assam Higher Secondary Education Council) board syllabus, ensuring that you excel in your school exams alongside your NEET and JEE preparations.
The Journey Begins in Class IX
Starting your journey towards NEET and JEE success from Class IX gives you a significant advantage. It allows you ample time to grasp concepts, practice extensively, and build a deep understanding of the subjects. Moreover, it reduces the stress associated with last-minute preparations.
Why Choose P&C Academy's 4-Year School Integrated Program?
Comprehensive Preparation: Our program covers every aspect of NEET and JEE preparation, from syllabus coverage to mock tests and practice papers.
Proven Track Record: P&C Academy has a history of producing successful candidates who have secured seats in top medical and engineering colleges.
Personalized Attention: Our small batch sizes ensure that you receive individual attention from teachers and mentors.
Holistic Development: We believe in nurturing not just your academic abilities but also your problem-solving skills, critical thinking, and confidence.
Strong Foundation: Our focus on CBSE or AHSEC boards ensures that you perform well in your school exams, securing your academic future.
In conclusion, P&C Academy's 4-Year School Integrated Program is your pathway to success in NEET, JEE, and your board exams. It combines the best of academic excellence, experienced faculty, personalized mentorship, and top-notch infrastructure to empower you to achieve your dreams. If you're ready to embark on this incredible journey, P&C Academy is here to guide you every step of the way. Your future begins now!
Featured Posts
| | |
| --- | --- |
| | Empowering Futures: P&C Academy's Transformative Mentorship Program for Special Students |
| | |
| --- | --- |
| | 40+ Mizoram's Bright Minds is at P&C Academy shaping their dream for NEET and JEE |
| | |
| --- | --- |
| | What is PCET : A Comprehensive Guide to PCET Scholarship Test |
| | |
| --- | --- |
| | 55+ Nagaland's Bright Minds Thrive at P&C Academy Integrated School |
| | |
| --- | --- |
| | 87+ students from Manipur pursuing their dream career as Medicine and Engineering at P&C Academy |
| | |
| --- | --- |
| | P&C Academy's 4-Year Program: Your Gateway to Top Engineering and Medical Colleges |
| | |
| --- | --- |
| | What is National Education Policy 2023 and how they transforming Education in India |
| | |
| --- | --- |
| | Unveiling a Promising Future: BHUMI PUJAN for New P&C Academy's Advanced Campus in Guwahati |
| | |
| --- | --- |
| | Your Path to Success: The 4-Year School Integrated Program at P&C Academy |